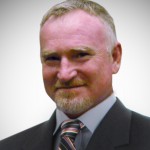 I was raised in a Chris­t­ian home, so it is hard for me to put a date on when I tru­ly was born again. I asked Jesus to be my Lord and Sav­ior many times grow­ing up. It was almost a guar­an­tee that I would feel the need to pray the sin­ner's prayer around the camp­fire on a Fri­day night after a week of Bible camp. I do believe that the Bible teach­es that Sal­va­tion is a moment in time expe­ri­ence when a gra­cious Father opens your eyes to the ugli­ness of your per­son­al sin and to the won­der of Jesus Christ who died in your place to take away your guilt before a Holy God. And at that moment when you embrace Jesus as your Lord and Sav­ior, you pass from death to life.
But when that moment was for me, I am not sure. I do know that at the age of 19, sit­ting under the stars alone with God, He moved in my heart to make my par­en­t's faith my own faith and I thank my Papa God for His con­tin­u­al draw­ing of my heart to His heart.
I grad­u­at­ed from Clear­wa­ter Chris­t­ian Col­lege in FL with a BA in Bible Stud­ies and min­is­tered at a Bible church in CT while I received my cer­ti­fi­ca­tion to teach sci­ence at the Uni­ver­si­ty of CT. After grad­u­at­ing from Uconn, I taught for a few years before get­ting my master's degree in Inter­cul­tur­al Stud­ies at Wheaton Col­lege out­side of Chica­go, IL.
Dur­ing this time, the Lord brought into my life Car­ol Porges, a love­ly young lady study­ing Edu­ca­tion­al Min­istries whom I could not stop think­ing about. Praise the Lord — she said, "yes"; and we were mar­ried right after we both graduated.
A year lat­er we moved to FL to work with a small group of believ­ers called Grace Bible Church; nine chil­dren and 16 years lat­er we are still here. What a bless­ing it is for me to be able to pro­vide for my fam­i­ly by preach­ing the Word of God and encour­ag­ing oth­ers to grow in the grace that is in Christ Jesus.